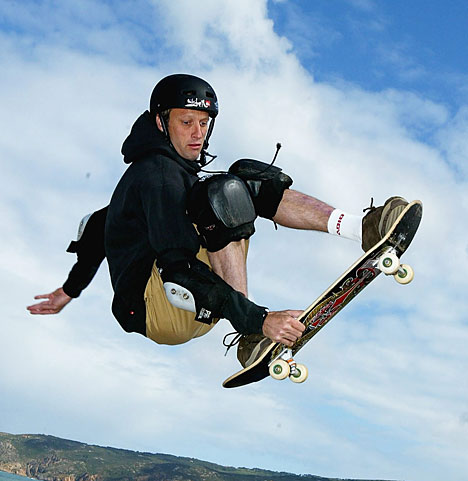 Birthdate: May 12, 1968
Birth place: San Diego, California
Parent's names: Frank and Nancy Hawk
Sibling's names: Lenore, Patricia & Steve
Children's names: Riley, Spencer, Keegan and Kadence
Tony Hawk was nine years old when his brother, Steve, changed his life by giving him a blue fiberglass banana board. Before skateboarding, Tony was a self-described nightmare. But he started goofing around on the thin Bahne skateboard, and his body finally caught up with his brain. "When he started getting good at skating it changed his personality," says Steve. "Finally he was doing something that he was satisfied with. He became a different guy; he was calm, he started thinking about other people and became more generous."
His mother agrees with a laugh: "I was just glad he was taking all his energy out on skateboarding and not on me."
It's not entirely clear where all of Tony's determination came from. At least some of it, no doubt, came from his father, Frank, who flew torpedo bombers off of aircraft carriers in World War II. More than providing the genes, however, Frank Hawk also played a major nurturing role as Tony progressed as a skater—not by teaching or training, but by throwing his full support behind his son's athletic passion. Frank drove Tony up and down the California coast for skate contests, built innumerable skate ramps over the years, and when he grew dissatisfied with the competitive organizations, founded both the California Amateur Skateboard League and the National Skateboard Association. The NSA's high-profile pro contests have been credited with helping the sport surge in popularity during the 1980s. Frank passed away in 1995.
By 12, Tony was sponsored by Dogtown skateboards, by 14 he was pro, and by age 16 Tony Hawk was the best skateboarder in the world. In the ensuing 17 years, he entered an estimated 103 pro contests. He won 73 of them, and placed second in 19. By far the best record in skateboarding's history. (He even won a contest after a redeye flight and only three hours of sleep.)
Unfortunately, being the world champion of skateboarding doesn't necessarily translate into financial security. Skateboarding is notorious for its peaks and valleys in popularity. As a high-school senior, he was able to buy his own house at age 17. Two years later he bought another house: a four-and-a-half-acre spread, where he built a monster skate ramp at the top of a hill. Tony was constantly traveling worldwide for demos and contests. He married Cindy Dunbar in April 1990 and they lived in Fallbrook. Always an electronics nut, Hawk constantly updated his computers, stereo systems, video cameras and cars. But, one day in 1991 this all came to an end. Tony felt the bump on his helmet and when he looked up, it was too late; the sky was already falling.
Skating died. Tony's income shrank drastically, and suddenly his wife, a manicurist, was the family breadwinner. The times were so lean that Tony was allotted a daily Taco Bell allowance of five bucks.
The next few years ripped by in a blur of financial uncertainty. He sold the house and the Lexus, and in 1992 Cindy gave birth to their son, Riley. Tony refinanced his first house and started a skateboard company, Birdhouse Projects. Two years later, he and Cindy divorced. Birdhouse wasn't making money and Tony's future was sketchy.
But skateboarding went through its cycle and was deemed cool again. The Hawk became the Phoenix. In 1996 he married Erin Lee, and bought a new house with a new pool with a new waterfall. Birdhouse became one of the largest skateboard companies in the world and he was signing six-figure endorsement deals. In 1998 he and his family started a kids' skate-clothing company called, of course, Hawk Clothing (now available exclusively at Kohl's department stores).
In 1999 Activision and Tony created Tony Hawk's Pro Skater video game for PlayStation. They expected decent sales, but the copies blew off the shelves and it quickly became a bestseller. The next year, Tony Hawk's Pro Skater 2 was released and jumped to the number-one position for over a month. Since then, the THPS series has become one of the best-selling video-game franchises of all time. The latest incarnation, Tony Hawk: SHRED, launches in October of 2010 with great anticipation. Himself a prolific social-media user, Tony launched ShredOrDie.com in 2007 to provide action-sports enthusiasts an online community where they could post and view skateboarding, snowboarding, surfing, BMX, and motocross videos.
Tony's success overflows into the non-electronic world as well. His autobiography, HAWK—Occupation: Skateboarder was a New York Times bestseller, and is currently available in paperback. His latest book, How Did I Get Here? The Ascent Of An Unlikely CEO, was co-authored by his sister and business manager, Pat, and has just been published by Wiley Books.
Today, Tony's days are a delicate balance between his work and family life. In March 1999 Tony became the father of a second baby boy, Spencer, and Tony's third son, Keegan, was born in July 2001. Though he and Erin divorced in 2004, Tony remains a proud and actively involved parent.
"It makes me proud that I can switch from being a skater to a responsible parent," he says. "But, I don't feel as old as other parents."
He may not feel as old as other parents, but he's old enough to have retired at age 31. It should be made clear, though, that in skateboarding the word "retire" doesn't mean you stop skating. It simply means he's stopped competitive skating. He still skates almost every day, still learns new tricks, and still does several public demos a year. One of the reasons Tony decided to stop competing at the end of 1999 was that he landed the first-ever 900 (two and a half mid-air spins) at the X Games. The 900 was the last on a wish list of tricks he'd written a decade earlier. The list included ollie 540, kickflip 540, varial 720 and the 900.
In 2002, Tony launched the Boom Boom HuckJam, a 30-city arena tour featuring the world's best skateboarders, BMX bike riders, and Motocross lunatics performing choreographed routines on a million-dollar ramp system, while punk and hip hop music plays. The hugely successful (and massively publicized) HuckJam tour has sold out arenas across the country, and inspired the Tony Hawk HuckJam Series of bikes and skateboards. The tour was exclusively at Six Flags parks across the country from 2006 through 2008. Speaking of Six Flags, the Tony Hawk's Big Spin roller coasters continue to draw lines of visitors at Six Flags in San Antonio and St. Louis, and the Tony Hawk's Halfpipe water ride has made a splash at Six Flags in the Washington, D.C. area.
In January 2006, Tony married Lhotse Merriam in a ceremony on the island of Tavarua. Tony and Lhotse continue to live in the San Diego area. Their daughter Kadence was born in July 2008.
When not at home with his family, Tony is usually working on one of his many media ventures, including ShredOrDie.com, the action-sports video site, hosting Tony Hawk's Demolition Radio on the Sirius XM satellite-radio network, or touring various skateparks around the country with his Birdhouse Skateboards team.
With the creation of the Tony Hawk Foundation in 2002, Tony also has made an effort to give something back to the sport that has given him so much. Designed to promote and help finance public skateparks in low-income areas, the foundation has awarded more than $3.2-million in grants to build skateparks in 463 communities throughout the U.S.: from Sitka, Alaska to Marathon, Florida.
"I'm pretty happy with the way things turned out," Tony says. "I mean, I never thought that I could make a career out of skateboarding."